Covid Protocol Update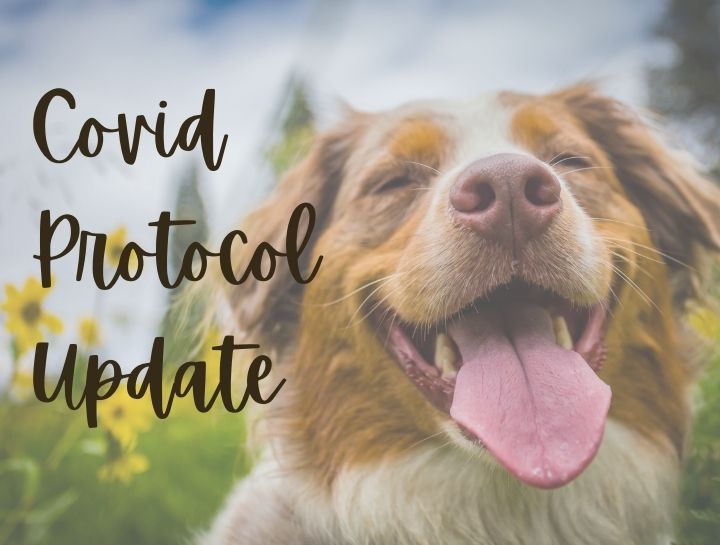 April 22, 2022
Thank you for helping us continue to adjust to the ever-changing "new normal". We have been so happy to see you in person again this past year. We have made a few changes as we begin a phased transition back to "the good ol' days".
COME ON IN:
We removed the parking spot signs and welcome you to come inside without calling first. This includes picking up prescriptions, technician appointments, drop-offs, and doctor appointments.
As of July 28, 2022, we are no longer requiring masks, but would recommend masks to be worn, especially if you've recently been sick, have been exposed to a sick individual, if you recently traveled, or if you recently attended a crowded event. Our hospital team will provide a similar courtesy, and may even choose to wear a mask if in close proximity with other individuals. Please remain smart and safe while we make this transition, as we want to continue to provide your pets the best possible care, and want everyone (including each of you) to stay healthy.
We would still prefer one client per patient, but if this is not possible, please let us know beforehand so we can make appropriate room arrangements. If you would prefer to remain curbside, that is ALWAYS an option, and you can call when you arrive in the parking lot.
SCHEDULING:
Currently, we are booking routine appointments about two-three weeks out in order to accommodate more day-of sick patients. If you know your pet is going to be due for vaccines, blood work, procedures, etc in the next few months, we are asking you to schedule them now. For your convenience, you may request an appointment online >
We are still accepting new patients and clients.
Unfortunately, we are booking procedures about three to four months out at this time. We have created additional procedure days, but ask that you schedule soon, especially for spays/neuters.
We do have a cancellation list, so let us know if you would like to be placed on it as well. On that matter, PLEASE let us know AS SOON AS POSSIBLE if you need to reschedule or cancel. There are many patients wanting to fill that spot, so please be courteous.

WAIT TIMES:
We strive to get you straight into a room and started on time with your appointment. However, a room may not be available immediately. We ask that you be patient and practice social distancing while in our waiting room.
BUSY PHONE LINES:
At times, all our phone lines may be in use, and we are doing our best to check messages frequently. Please be advised that you may be receiving calls from "blocked numbers" as many of us are using our personal phones for outgoing calls.
You can always email us if you have a question or refill request at hwah@yourvetdoc.com (NEW EMAIL ADDRESS!) or submit a refill request on our website>

Thank you all for your support and kind words during this time. It really does keep us going. As a community, we will continue to rise above these challenges and come out closer and better in the end.
Warm wishes,
The Staff of Health and Wellness Animal Hospital